Introducing DataScribe 101
Fall workshops hosted by the DataScribe project team will further support user exploration of DataScribe 101's capabilities.
Earlier this year, RRCHNM released DataScribe, a structured transcription module for the Omeka S platform. This module enables scholars to identify the structure of the data within their sources, speed up the transcription of their sources, and reliably structure their transcriptions in a form amenable to computational analysis. Scholars can turn sources into tables of data stored as numbers, dates, categories, and more.
The latest release brings improvements to the module in addition to new resources for users to reference when using DataScribe for their own work. Resources available include tutorials and case studies that cover the applied use of DataScribe for large transcription projects including American Religious Ecologies and Death by Numbers.
For users interested in a more in depth review of how to use DataScribe, the DataScribe Project team is pleased to announce their Fall Workshops and Webinars series.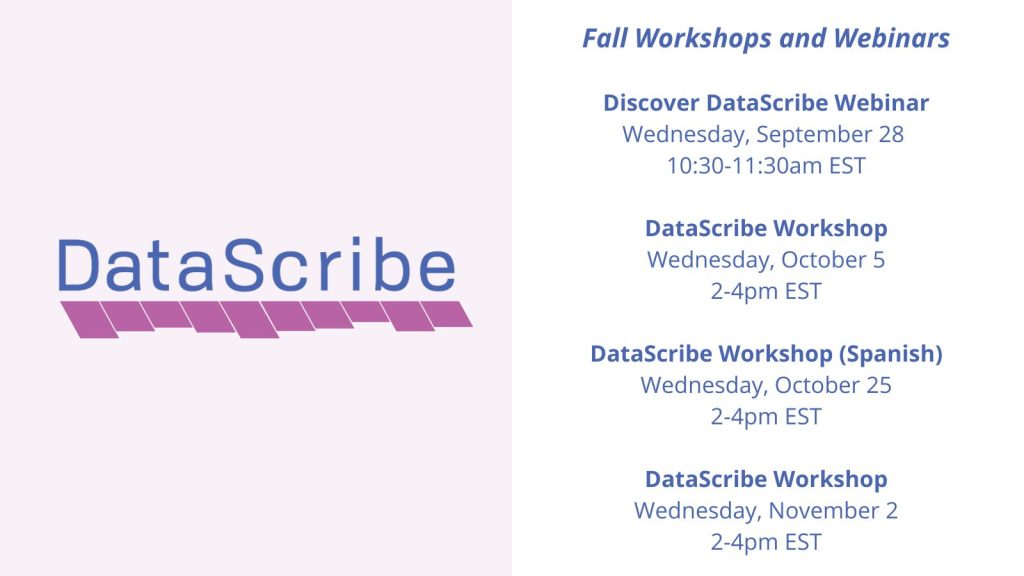 Each webinar and workshop will cover the same information and will be hosted virtually. Links to register for each event will be posted to RRCHNM's Twitter when the registration link is available.
Kicking off the Fall Workshop and Webinar Series is the Discover DataScribe Webinar. Registration for Discover DataScribe is now open for all who would like to join the project team and get started with DataScribe next week on Wednesday, September 28 from 10:30-11:30am EST.