Arlington Public Schools and the Roy Rosenzweig Center for History and New Media (CHNM) at George Mason University are proud to announce a collaborative project called Through the Doors of Stratford. This series of online modules will allow Arlington government and history students to explore their community's role in the complex history of school desegregation.
On February 2, 1959, four African American students entered Stratford Junior High School in Arlington, Virginia. On this exceptional day, Gloria Thompson, Michael Jones, Lance Newman, andRonald Deskins became the first African American students to attend Stratford and the first to attend an all-white public school in the Commonwealth of Virginia. These 7th-grade students made history despite the determined opposition of the state government of Virginia which threatened to close all schools that attempted to desegregate — a policy known as Massive Resistance.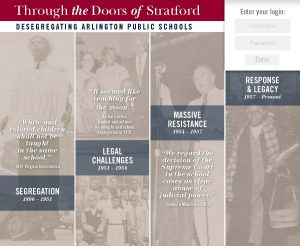 Through the Doors of Stratford will allow Arlington students to explore the complexities and nuances of this event and better understand its significance within the context of government and history courses. Students will build historical thinking and critical thinking skills as well as digital research and presentation skills while deepening their understanding of key topics in social studies.
CHNM is working closely with Arlington teachers Michael Palermo and Kira Jordan to create Through the Doors of Stratford. Online modules will be available to Arlington teachers for classroom use in 2017.