Current Research in Digital History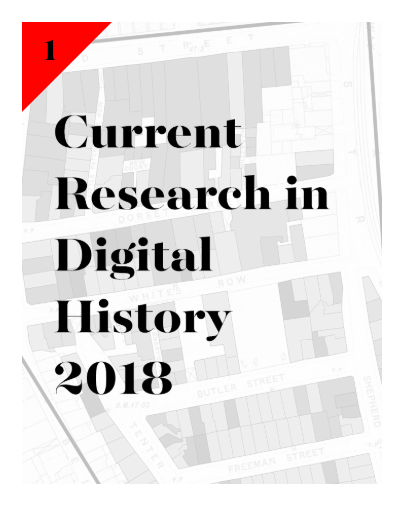 The inaugural issue of RRCHNM's new annual open-access, peer-reviewed publication Current Research in Digital History is now live. The issue was edited by Lincoln Mullen and Stephen Robertson, with crucial input from a program committee consisting of Kalani Craig, Jessica Marie Johnson, Michelle Moravec, and Scott Weingart. Editorial Assistant Greta Swain worked throughout the summer to prepare the essays for online publication, in a platform designed by Kim Ngyuen and Ken Alpers that allows for interactive visualizations, data and code appendices and other features not typically available from humanities journals.
The primary aim of Current Research in Digital History is to encourage and publish scholarship in digital history that offers discipline-specific arguments and interpretations. By featuring short essays, it also seeks to provide an opportunity to make arguments on the basis of ongoing research in larger projects.
This issue features 17 essays on topics ranging from language borrowing among Indian treaties and agency and authenticity in the 1960s American folk music revival to social reading in Old Regime France, war camps and wayward girls in Virginia and Herblock cartoons.
Essays published in CRDH are first presented at an annual one-day conference at George Mason University in Arlington, Virginia. Authors submit their essays in the fall, and then the conference is held in the spring. Each essay goes through two rounds of peer review, first by the conference program committee, and then by the conference commentator. CRDH is published at the end of August, less than a year after essays are submitted.
Submissions for the 2019 conference and publication are due by September 28, 2018.
CRDH is funded by donations to the RRCHNM Director's Fund. Members of the program committee, commentators and participants in the conference plenary roundtable are paid small stipends to recognize the time they commit. Four $200 stipends are available to support the participation of presenters who have to travel to the conference. You can donate to support CRDH.