Supporters
Our goal is to
democratize

access

to information.
Twenty-five years ago, Roy Rosenzweig founded our Center with the goal of democratizing access to information for anyone interested in history. In October 2019, we began an anniversary fund raising campaign for the Center to help us continue Roy's legacy of innovation in the digital humanities.
For this campaign we want to raise $75,000 for an innovation fund that will allow us to pursue new ideas and projects outside of existing streams of support for the digital humanities.
We want to raise $50,000 to support new opportunities for our graduate students, that will allow them to take part in national and international exchange programs at other digital humanities centers and to support ideas that they generate on their own. And we want to increase the endowment for the Roy Rosenzweig Prize given each year by the American Historical Association by $25,000.

We are pleased to announce an opening donation of $25,000 for the campaign from our long-time partners at the Digital Scholar, and we hope that you will join with us today to help us raise the funds we need to achieve our goals for RRCHNM. RRCHNM is supported in part by an endowment made possible by National Endowment for the Humanities Challenge Grants awarded in 1998 and 2008. The second Challenge grant was linked to a campaign to name the Center in honor of Roy Rosenzweig. Gifts from that fundraising campaign are acknowledged on this donor board located at the entrance to the Center.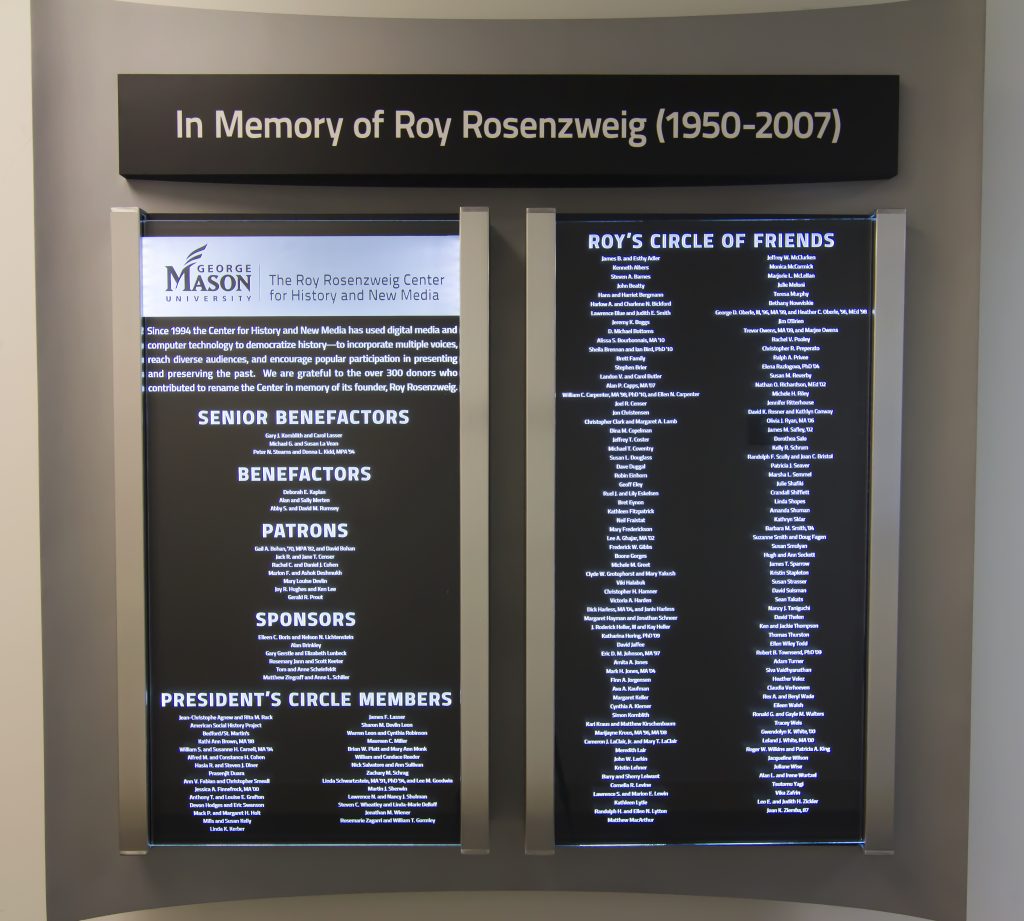 How do we spend income from
the
endowment?
An Endowment report can be found in the Center's Annual Report, which is published each Fall. From 2013-2018, income from the endowment paid a portion of the salaries of the Center's Grant Administrator and Systems Administrator. Neither position can be included in the grants that fund the Center's work. Beginning in 2018, the College of Humanities and Social Sciences at GMU agreed to fully fund those positions. In 2018-19, the endowment supports a Postdoctoral Fellow in Digital Teaching and Learning, to allow the Center to maintain its work in the area of K-12 education.