RRCHNM is supported in part by an endowment made possible by National Endowment for the Humanities Challenge Grants awarded in 1998 and 2006. The second Challenge grant was linked to a campaign to name the Center in honor of Roy Rosenzweig. Gifts from that fundraising campaign are acknowledged on this donor board located at the entrance to the Center.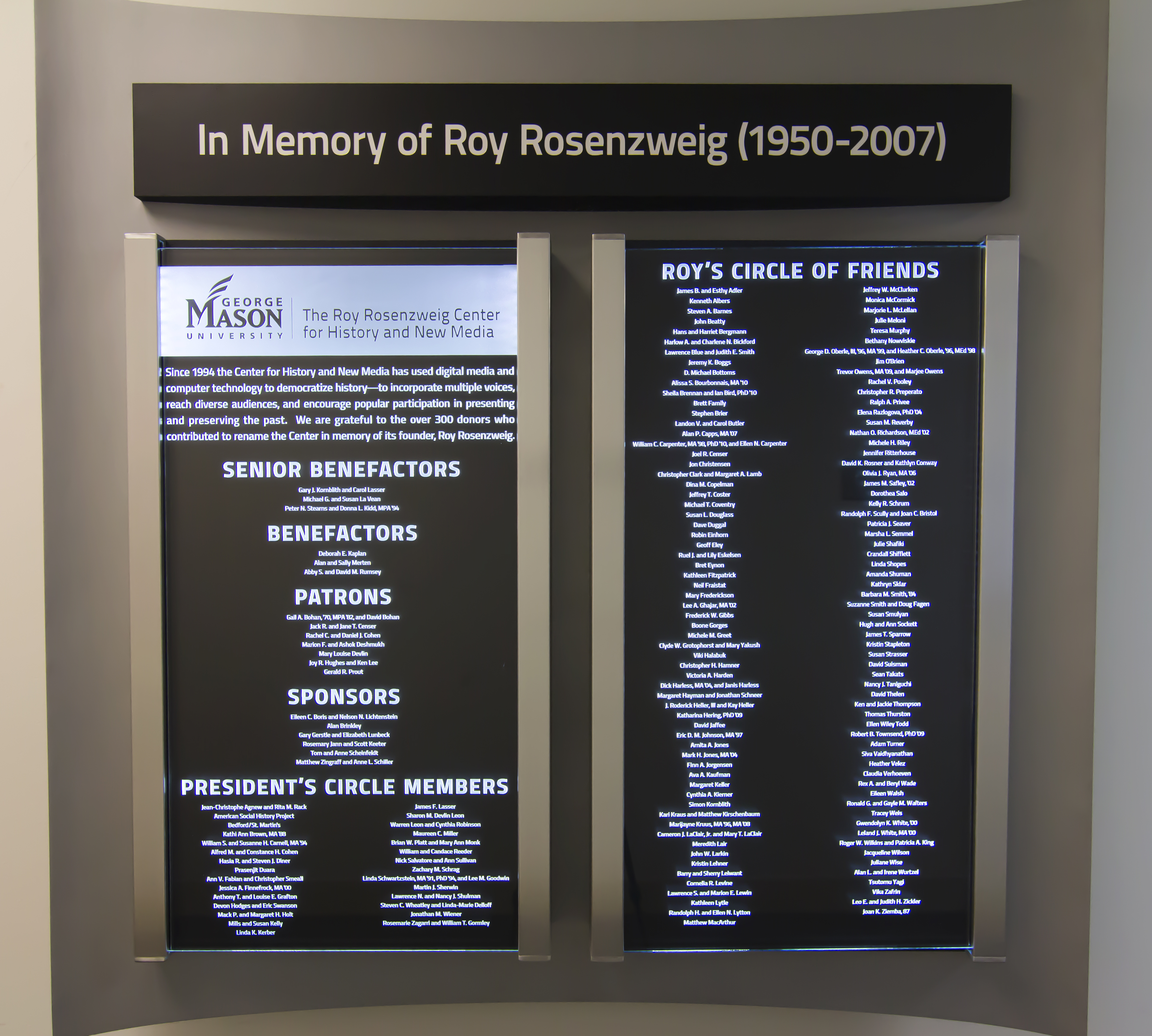 The Center also administers the endowment raised to support the American Historical Association's Roy Rosenzweig Prize for Innovation in Digital History. In 2014 an ongoing gift from an anonymous donor created the Director's Fund, which provides funds for current use.
How do we spend income from the endowment?
An Endowment report can be found in the Center's Annual Report, which is published each Fall.
From 2013-2018, income from the endowment paid a portion of the salaries of the Center's Grant Administrator and Systems Administrator. Neither position can be included in the grants that fund the Center's work. Beginning in 2018, the College of Humanities and Social Sciences at GMU agreed to fully fund those positions. In 2018-19, the endowment supports a Postdoctoral Fellow in Digital Teaching and Learning, to allow the Center to maintain its work in the area of K-12 education.
Since 2015, the Director's Fund has supported a variety of on-going and one-off initiatives: the publication of the Annual Report, and Current Research in Digital History, a new annual conference and peer-reviewed online publication; and a redesign of the Center website, and an update of the software platform of Teaching History, the Center's most visited site.
Beginning in 2015, RRCHNM launched a campaign to increase philanthropic support to grow the endowment to recover losses from the financial collapse of 2008 and provide a sustainable future for the Center. We thank those who have renewed their support of the Center:
| | | |
| --- | --- | --- |
| 43rd Bomb Group Association | Jean-Christophe Agnew | Erin J. Bell |
| Johannes D. Bergmann | Harlow A. Bickford | Charlene N. Bickford |
| David S. Bill, IV | Ian Bird | Marilyn S. Blois |
| Beverly A. Blois, Jr | Gail A. Bohan | David Bohan |
| Sheila A. Brennan | Sally A. Brett | David B. Brown |
| William S. Carnell | Susanne H. Carnell | William C. Carpenter |
| Ellen N. Carpenter | Joel R. Censer | Herrick E. Chapman |
| Daming Chen | Faolan Cheslack-Postava | Peter G. Claymore |
| Carla M. Claymore | Daniel J. Cohen | Lizabeth A. Cohen |
| Rachel C. Cohen | John R. Cooper | Melissa A. Dabas |
| Marion F. Deshmukh | Ashok Deshmukh | Mary Louise Devlin |
| Mary Dudziak | Geoffrey H Eley | Beverly S Ellis |
| Donald R. Fairman | Rose M. Fairman | Jeffrey G. Feagin |
| Leslie Feazell Schill | Ford's Theatre Society | Gary Gerstle |
| Eleanor P. Greene | Michele M. Greet | Tim Gresback |
| Casey Harison | Janis G. Harless | Richard Harless |
| Leigh Harrison | Daniel M. Hausman | Nancy A. Hewitt |
| Devon L. Hodges | Mack P. Holt | Margaret H. Holt |
| Joy R. Hughes | Rosemary Jann | Jewish Communal Fund |
| Christian Jones | Mark H. Jones | Kelly Jones |
| James H. Joy | Catherine C. Kautsky | Scott Keeter |
| Bassel Khoury | Gary J. Kornblith | Susan L. Lanson |
| Carol S. Lasser | Steven F. Lawson | Brian Lee |
| Kenneth Lee | Sharon M. Leon | Lance Lerum |
| Jan Lerum | Cornelia R. Levine | Somask Likhitrattanapisal |
| Elizabeth A. Lunbeck | Rebecca Mark | Matthew Martinez |
| Robert I. Matz | Teresa L. Michals | Maureen C. Miller |
| Colin B. Mitchell | Catherine Mizell-Nelson | Harland S. Nelson |
| Corinne L. Nelson | Sarah M. Nelson | Heather C. Oberle |
| George D. Oberle, III | John R. Orens | Orex Digital |
| Timothy Owens | Steven Patterson | Rita M. Rack |
| Sergey Rashchenko | Jason Rhody | Jennifer L. Ritterhouse |
| Stephen M. Robertson | Elizabeth C. Rowe | James K. Russell |
| David Sampson | Catherine E. Saunders | Joseph T. Scheinfeldt |
| Anne Scheinfeldt | Joseph V. Schill, III | Linda J Seligmann |
| Tim Sherratt | Martin J. Sherwin | Nathaniel J. Shie |
| Linda Shopes | Amanda Shuman | Damian A. Smith |
| Susan Smulyan | Keith Stanger | Eric V Swanson |
| David Thelen | Kenneth C. Thompson | Troy D. Thompson |
| Jackie C. Thompson | Shelly R. Thompson | Daniel J. Tyson |
| Terry J. Tyson | University of Texas System | Verizon Foundation |
| Daniel J. Walkowitz | Judith Walkowitz | Terry A. Wallace |
| Beverly C. Walters | | |